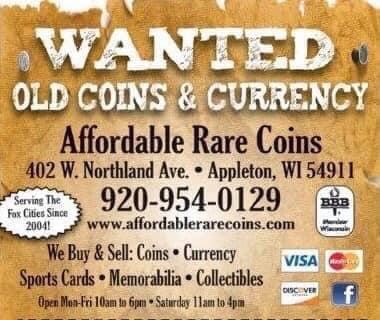 Many dealers buy coins based on "how little" they can get away with paying for things
We buy coins based on each and every coin's eye-appeal, as a coin will sell for more when it looks good.  Remember, a coin's only job is to please its owner!

We buy the whole collection. We don't just "cherry pick" the good stuff. We purchase coins regularly and will ALWAYS itemize each and every item on a valid purchase receipt.

We value your coins fairly and will pay as much as we can in order to remain in business. 
So, if you have coins to sell, you can contact us at (920) 954-0129.